Nolton Haven beach sewage warning over broken pipe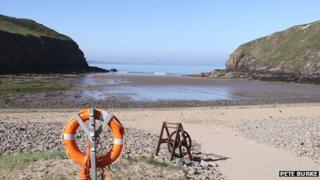 Visitors to a beach in Pembrokeshire have been warned that the sea could have been polluted after sewage leaked from a broken sewer.
Environment Agency Wales is monitoring the water at Nolton Haven beach after diluted sewage seeped into a stream that flows to the coast.
Dwr Cymru Welsh Water has repaired the sewer and the discharge has now stopped.
Pembrokeshire council said the quality of the sea water could be affected.
It has put up warning signs at the beach about the potential pollution.
Agency officials discovered the leak during a routine survey on Wednesday afternoon and have taken water samples from the beach for analysis.
An agency spokesperson said its officers would continue to monitor the situation "and will take further water samples later in the week to assess the impact of the pollution".
"We will investigate how this has occurred and will take action as appropriate," they added.