Cardboard nest for homeless swallows in Carmarthen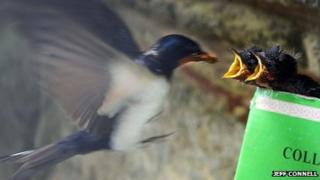 A cardboard box has become the home of a family of swallows in a castle walkway after their original nest fell, killing two chicks.
And to ensure the three surviving chicks thrive, the walkway - which is used as a route through to a car park, museum and Carmarthen's county hall - has been closed to people.
The new nest in the west Wales town was put up after advice from the RSPCA.
The surviving chicks have been named Merlin, Gwenllian and Dewi.
A spokesman for Carmarthenshire council said the new nest was created for the birds, after a family visiting the museum discovered the original nest had crashed to the stony ground beneath the portcullis castle porch entrance off Nott Square.
Advice was sought from the RSPCA and with the help of the council's senior tourism information officer, Lowri Jones, a makeshift nest was rigged up out of a cardboard box lined with straw.
"There were lots of tears and everyone was distraught at first," said Ms Jones.
"But as soon as the baby swallows were put in the box and placed as close as possible to the old nest site the parent birds were swooping in with food for the three baby birds we called Merlin, Gwenllian and Dewi."
The castle's stone portcullis tower has historically been a popular swallow and swift nesting site.
It is thought to be ideal because of the availability of nest building materials - mud from the banks of the nearby Towy river - and abundant insects for them to eat.
"Locking up the entrance has been essential to the well-being of the fledglings, if a little inconvenient for those visiting the museum, the county hall or the car park," said Ms Jones.
"The detour round the castle walls into Queen Street and into Spillman Street does take a few minutes.
"But people understand when questioning the notices put up saying the gates have been locked," she added