Swansea jail third most overcrowded - Prison Reform Trust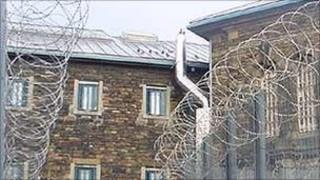 Swansea prison is the third most overcrowded jail in England and Wales, figures show.
HMP Swansea was built for 240 inmates, but latest figures show it holds 436.
Geoff Dobson, of the Prison Reform Trust, said Swansea had done well to cope with its level of overcrowding, but called for more community sentences to help reduce reoffending.
A Prison Service spokesperson said the level was acceptable, but it was aiming to reduce overcrowding.
The PRT report found that 77 of the 131 establishments in England and Wales are officially overcrowded.
The prison campaign charity said although the growth of the prison population had slowed there were still 7,294 more people in the UK system than it is designed and built to hold.
It added that reoffending rates tended to be high, particularly for short-sentence prisoners.
"Swansea, according to the independent inspection reports has done a good job over the years and this is despite the overcrowding," Mr Dobson told BBC Radio Wales.
"The last report a couple of years ago talked about the hard work of the governor and staff to ensure a safe environment and talked about excellent staff-prisoner relationships."
But Mr Dobson added that the report also talked about the prison being cramped and overcrowding, time out of cell being limited and poor resettlement plans.
"What we do know, again from official statistics, is that almost six out of 10 short-term prisoners are going to reoffend within a year so you get this revolving door process operating," he said.
"An awful lot of money has been thrown at prison. It costs £40,000 a year to keep somebody in prison.
'Switch resources'
"In our view there ought to be a switch of some resources so that some of those people with serious learning disabilities, with mental health problems, with drug addiction - some of those people and the less serious offenders could effectively be dealt with outside prison.
Mr Dobson added that research had shown that community sentences were at least 8% better in reducing reoffending than short prison sentences.
Elfyn Llwyd, Plaid Cymru MP for Dwyfor Meirionnydd and deputy chair of the Justice Select Committee, said overcrowding created "a very dangerous environment, both for the prisoners themselves and for the people who work in the prisons".
"There's no question about the professionalism of those involved in the prison service but when you've got twice the number [of prisoners]... it's a tinderbox in a way," he said.
"Whenever any disorder breaks out in prisons one factor is always present and that is overcrowding."
Mr Llwyd said the way forward lay in properly supervised community sentences, rather than short jail terms.
"It's costly in terms of the human impact but it's costly in terms of the taxpayer as well when you consider how much it costs to keep people in prison for no good reason."
Even though two new prisons opened in 2012, with a capacity of 2,500 places, nearly two-thirds of prisons in England and Wales are overcrowded, the PRT says.
A Prison Service spokesperson said: "All of our prisons provide acceptable levels of accommodation for prisoners, although some prisons hold more people than they were originally designed for.
"We are aiming to reduce the existence of crowding alongside reducing the cost of the prison estate."