Aspers casino: 100 jobs to go in Swansea's Wind Street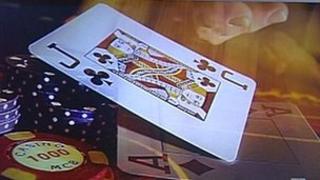 The owner of a £13m casino in Swansea city centre has confirmed it will close with the loss of more than 100 jobs.
Aspers in Wind Street will cease trading at midnight on Thursday, five years after opening as part of a major transformation of the area.
It follows a 90-day consultation with staff over the future of the venue, which was the biggest casino in Wales when it opened.
The firm said it regretted the closure but it was not commercially viable.
Richard Noble, chief operating officer of Aspers, said: "The company came to the conclusion that the business would continue to run at a loss and it was not viable in the long term.
"We can confirm that the venue will close its doors for the last time at midnight on Thursday.
"We would like to sincerely thank all of the team members in Swansea who have shown such loyalty and dedication to Aspers.
Small casino licence
"We would also like to thank all of our customers, who we have thoroughly enjoyed serving over the last five years."
Swansea was one of eight cities in the UK to be granted a small casino licence under legislation passed in 2005.
When the firm announced its consultation in May, it stated it wanted to bid for a licence under the new legislation but it has not yet been put out for tender.
It believed the licence would have made the casino more viable as it would have more to offer customers. But a downturn in the economy was also blamed for a drop in trade.
When Aspers opened its doors, it was expected to attract 10,000 people a week and see £4.5m spent on gambling over the course of the first year.
Last month, it was revealed that the owners of Swansea's biggest nightclub, the Oceana in Kingsway, are holding talks with its landlord in a bid to keep the struggling £6m venue open for business