Withybush Hospital baby unit fears heard at meeting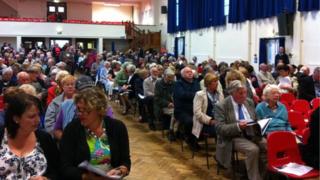 Concerns about the future of hospital care for premature and sick babies in Pembrokeshire were expressed at a meeting attended by around 500 people.
Hywel Dda Health Board is consulting on plans to change services and held a public meeting at Sir Thomas Picton School, Haverfordwest, on Thursday.
It heard fears about the closure of the Special Care Baby Unit at the town's Withybush Hospital.
A new unit is proposed for Glangwili Hospital in Carmarthen.
The health board provides healthcare to around 372,320 patients throughout Carmarthenshire, Ceredigion and Pembrokeshire.
It currently has level one neonatal care units at Glangwili Hospital and Withybush General Hospital in Haverfordwest, which provide the basic level of care, along with a nurse-led neonatal unit at Bronglais General Hospital in Aberystwyth.
Babies in need of complex specialist care from the health board area are currently sent to Swansea's Singleton Hospital where a level three unit cares for the most seriously ill young babies.
But it is a two hour, 50 mile drive away from the homes of some patients.
There are proposals for a level two unit at Glangwili Hospital, Carmarthen, which Phil Kloer from Hywel Dda Health Board told the meeting would be an improved service in Carmarthen and would cut down on travel time to Swansea.
There are no level two units at all in the Hywel Dda Health Board area at present.
'Downgrading of services'
But the plans - the preferred option by the health board - would mean the closure of the current baby care unit at Withybush.
Local assembly members, and MP Stephen Crabb attacked the plans during the meeting.
Conservative AM Angela Burns said there were concerns that paediatric services at Withybush could be cut if the baby unit was scrapped, as the two were interdependent.
Her colleague Paul Davies AM, said that the people of Pembrokeshire "wouldn't tolerate any downgrading of our health services" and challenged Hywel Dda Health Board to "prove that it was a genuine consultation."
Meanwhile, Labour's Joyce Watson AM, said there were "persistent concerns about neonatal care and that there were more questions than answers."
'Endanger babies'
A leading paediatric consultant at Withybush, Gustav vas Falco, said he had "grave reservations" about moving the special care baby unit from Haverfordwest.
A nurse at the unit added that the move would "endanger our babies in Pembrokeshire".
The consultation process will end on 29 October with the health board drawing up firm proposals in the New Year.
The meeting - the final community one in the consultation process - lasted over three hours.
The proposals are part of NHS reorganisation in Wales.
Previously, Dr Simon Fountain-Polley, Hywel Dda's clinical director for child and adolescent health, said the level two neo-natal unit would provide "all aspects of high dependency care" for sick and premature babies "much closer to home".