Swansea's Glynn Vivian Art gallery receives further cash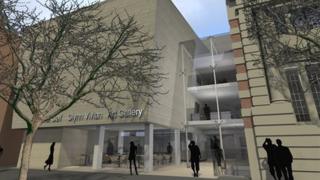 Swansea's Glyn Vivian art gallery is to receive a £250,000 funding boost to help make the layout of the 1911 building more appealing to visitors.
The gallery is nearly half way through a £6.7m two-year redevelopment funded by the Arts Council for Wales, Swansea council and Heritage Lottery Fund.
The Welsh government's £250,000 adds to £300,000 it has already pledged.
Once complete, it is hoped the gallery will attract about 90,000 visitors a year, double what it brings in now.
Nick Bradley, Swansea council's cabinet member for regeneration, said: "It's very encouraging that we're able to work in close partnership with the Welsh government on a number of schemes that will improve our city and celebrate our rich heritage.
"The refurbishment of the Glynn Vivian will lead to an attraction with facilities that meet the needs of 21st Century visitors."
Work will include a complete refurbishment of the 1911 building, a new entrance and re-cladding of the 1974 gallery extension.
Other features of the upgrade will include a dedicated reading and resource centre devoted to visitor research, wi-fi access and improved facilities for working with schools and colleges.
Copperworks
A new storage and conservation area to enable the future development of the collections will also be provided together with enhanced workshops.
The Welsh government also announced through its regeneration area programme that £35,000 would be pumped into funding of a detailed implementation plan for the creation of a heritage-led regeneration of Swansea's historic copperworks site.
The area, which produced copper between 1810 and the 1980s will open to the public after a grant in the region of £540,000 was awarded last year.
Housing regeneration and heritage Minister Huw Lewis said: "Both the Glynn Vivian gallery and the Hafod Copperworks have the potential to become top class attractions in Swansea, and will benefit the local community both by providing leisure and educational opportunities and by creating business and job opportunities.