Swansea roadside sign job hunter Dillwyn Davies's plea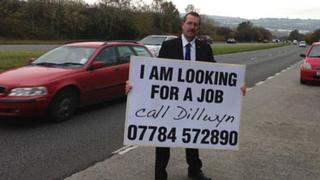 A man unemployed for three months is advertising himself for work to passing traffic by holding up a sign at Swansea roadsides.
Dillwyn Davies's sign shows his name, telephone number and the legend "I am looking for a job".
He took up his position in Fforestfach after reading about other people in the UK and Ireland finding work using this method.
Mr Davies reported six job leads on his first day, and hopes for more to come.
The former bus driver, 61, has found it difficult to apply for suitable jobs he has found as he said they had involved submitting documents online and he did not know how to do that.
He had thought of the more direct approach to job hunting some years ago during a different period of unemployment.
But he chose to take action this time after reading about other jobseekers who had successfully used this method in other parts of the UK and Ireland.
He told BBC Wales it was difficult to find a job using more conventional methods.
"You go into the job centre, look at a card, get a print-out," he said.
"Somebody in my position, at my age, you're not going to get an interview."
He admits he has "fallen behind" with technology, saying he has lacked the time and money to learn how to use computers effectively for job searching.
"I suppose I'm guilty of not giving time to it," he added.
'Proactive'
On his first day of standing at the roundabout, he said a couple of people stopped and said they were looking for people.
One man talked to him for 10 minutes about an office-based engineering job in Swansea, although he did not have the qualifications needed.
However, Mr Davies said the man was "very sympathetic" to his plight and had had further telephone conversations with him.
Of the six phone calls, he said he either did not have the qualifications or was unable to do the type of work because of travel, but the response had made him optimistic and keen to continue with his unusual job hunting method.
"People do respect people who are proactive," he said.
As well as bus driving, he said he could offer experience in customer service, customer care and sales, but was prepared to learn anything, given enough time.
"I'm the type of person who's a bit slow on the uptake, but once I'm up and running, I'm lethal."