Gower sea death inquest: Sam Capper's brother Lewis Hunt 'battle' to save him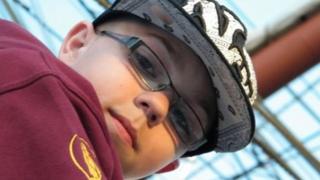 A man battled to keep his brother afloat for 30 minutes after the 15-year-old was swept into the sea off Gower, an inquest heard.
The death of Sam Capper at Bluepool, near Llanmadoc, was recorded as accidental by the coroner.
The hearing was told his brother, Royal Navy junior officer Lewis Hunt, 21, tried to save him but was forced to give up fearing they would both drown.
The pair from Birkenhead were on the last day of their holiday in August.
They had been accompanied by family and friends who raised the alarm.
Investigating officer DC Emma Hughes told the inquest how a "huge wave broke next to Sam and engulfed Sam, pulling him into the water".
She said: "Lewis battled to keep them afloat for half an hour. He became fatigued keeping them afloat.
'Blood brothers'
"Lewis believed at this point they were both going to drown and realised there was nothing he could do to save his brother, and if he wanted to save himself that he had to let his brother go.
"Lewis stated that his girlfriend Jennifer was 20 weeks pregnant at the time, and he imagined his own son growing up without a father, and also imagined his own mother losing two sons, and took the decision to let Sam go."
The brothers were pulled from the water by lifeboat crews and attended to by paramedics.
Sam was airlifted to Swansea's Morriston Hospital where he was later declared dead.
They had been on their annual camping trip with their dad, Phil, spending the week fishing.
Coroner Philip Roger said Mr Hunt had done his very best to save his brother.
The inquest was told although the pair were step brothers they regarded themselves as "blood brothers".
Singleton Hospital's consultant pathologist Dr Namor Williams said Sam's cause of death was immersion in water.