Neath Port Talbot children's social services concern remains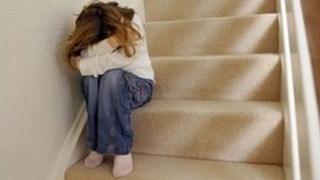 Serious concerns remain about children's social services in Neath Port Talbot, an inspection report says.
The report by Care and Social Services Inspectorate Wales (CSSIW) highlights a lack of progress in addressing previously identified problems.
Problem areas include a failure to protect vulnerable people from potential harm.
The council said it acknowledged the need to respond with "significant and rapid improvements".
CSSIW highlighted grounds for serious concern including frequent failure to meet statutory requirements, lack of suitable staff in key positions and lack of effective guidance and quality control.
CSSIW chief inspector Imelda Richardson said she had told the local authority of her decision to "invoke the Welsh government's protocol for responding to serious concerns about children's social services".
New improvement targets have now been set with quarterly visits to monitor progress.
Ms Richardson said: "I am concerned about the lack of progress, despite the dedication and hard work of front line staff, in addressing the significant problems we have identified in children's social services in Neath Port Talbot during the last two years.
"I have met with the chief executive and he understands that there needs to be a step change in the performance of children's social services and that he needs to ensure that all of the necessary actions are taken to rapidly improve these services.
"We have agreed improvement targets and CSSIW will be conducting quarterly visits to monitor performance and progress in achieving these."
She also said there were "some skilled and enthusiastic social workers and managers who want to continue to work in the authority".
However, she added: "Although the council has approved significant additional investment in children and young people's services in the last year, the high turnover of staff has continued to have an adverse impact on the performance and continuity of service delivery to children and their families.
"The interim head of service took action to stabilise the workforce but this has yet to translate into significant improvement in timeliness and quality of service delivery."
The Welsh government said the report into the council's children's social services was the third of its type in two years following concerns first identified in 2010.
Gwenda Thomas, deputy minister for children and social services, said: "This is a very serious matter.
"However, I want to emphasise that the action being taken by the chief inspector is designed to act as a driver for improvement and to enable the authority to support their staff in achieving the best outcomes for children and their families.
"Its purpose is to focus on improvement priorities, carry out regular monitoring of progress in achieving these and to provide constructive challenge through this process.
'Rapid improvements'
"I am not prepared for services to children to fall below acceptable standards."
Councillor Alun Thomas, leader of Neath and Port Talbot council, said safeguarding children had always been a "top priority for myself and all my fellow councillors and will always remain so".
"The council accepts the findings of this report and acknowledge the need to respond with significant and rapid improvements to these services," he said.
"The council has made some progress in the last 12 months, something that is recognised in the report, but there is much still to do and important areas for us to address.
"To this end, I will be putting in place additional cross-party arrangements to support the improvement programme."
Council chief executive Steve Phillips said the council would "work with the inspectorate and others to take the necessary action to meet the agreed improvement targets" to ensure children and young people in need and their families achieved "the best possible outcomes".