Soldier seriously injured in Castlemartin training exercise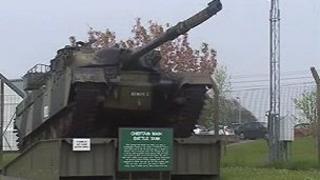 An investigation is taking place after a soldier was badly injured during military training in Pembrokeshire.
It is understood a vehicle was involved in the incident at the Castlemartin range in Pembroke on Tuesday.
The man was airlifted to hospital with chest injuries.
"We can confirm an incident took place at Castlemartin ranges resulting in one soldier being seriously injured," said the Ministry of Defence.
"The matter is under investigation and it would be inappropriate to comment further on this case at this time."
It is the second serious incident at Castlemartin this year following the death of Ranger Michael Maguire, 21, who was hit in the head by a stray bullet during a training exercise.
The Ministry of Defence's Castlemartin range covers 2,400 hectares and is located within the Pembrokeshire Coast National Park.