Neath £13m redevelopment to start with demolition work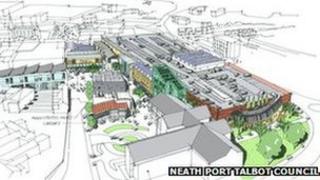 Work is due to start on the redevelopment of Neath town centre with the demolition of vacant houses.
New shop units and a multi-storey car park are to be built next to the magistrates' court on Water Street.
However, council leaders warn it may be some time before the full plans are realised as the current economic conditions have "hampered" the project.
The development will create 110,000 sq ft of new retail space linked to the existing town centre.
Neath Port Talbot council said while economic conditions remain difficult, both it and the authority's preferred developer, Simons, have ensured work can start.
"Further phases, when conditions allow, will see the development of additional retail space and some mixed-use opportunities," said a statement.
"Progress will continue to be made to bring the scheme forward to a point where tenants can be encouraged to take space in the scheme."
Last October the Welsh government announced funding towards the project alongside Neath's civic centre.
Council leader councillor Ali Thomas said: "I hope this first step will be the catalyst to the successful development of the entire scheme in the near future, as confidence in the market returns and this commitment by the council will send out a clear signal to help make this happen."