Swansea City: Dai Lama backs Jacks for Capital One Cup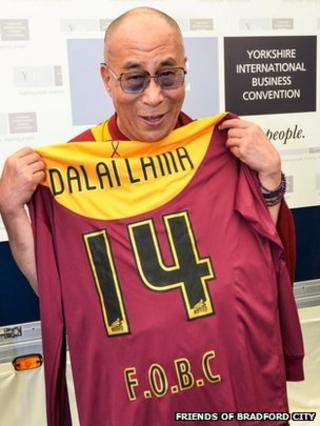 After the Dalai Lama's public backing for Bradford City in this month's Capital One Cup final, their opponents Swansea City now have the backing of Dai Lama.
Last year the Friends of Bradford City presented the Tibetan spiritual leader with one of the League Two club's shirts during his visit to Leeds.
The Dalai Lama also issued a blessing for his adopted team at the weekend, ahead of the Wembley showpiece.
Now Dai Lama - an amateur Welsh sport pundit with until recently a mostly local fan-base on Twitter - says he too has something of a worldwide following on the social networking site.
"My follower number on Twitter has shot up over the last 24 hours," said Dai, who tweets as @WelshDalaiLama.
"It's mainly Swans fans turning to me in their hour of need. Rest assured I will not let them down."
'Great strength'
The Friends of Bradford City managed to present the exiled Tibetan with a personalised number 14 club shirt, as he is the 14th Dalai Lama.
They also appointed him as its honorary president.
Like the Dalai Lama, Dai will not be able to attend Wembley in person on 24 February.
But he will send his own best wishes to the Swans - widely known as the Jacks - via tweets.
He warned, though: "But I think it's only fair to warn the Swansea faithful that the last team on whom I bestowed my Twitter 'blessing' were the Welsh rugby side last Saturday."
Welsh rugby fans will not need reminding that their side suffered their eighth consecutive defeat - and record-breaking fifth loss in a row at home - to Ireland in the Six Nations.
However, Swansea fans will hope they do not require any such help, having knocked out European champions Chelsea in the semi-final to reach Wembley.