Capital One Cup final: Swans fans at heart of club's success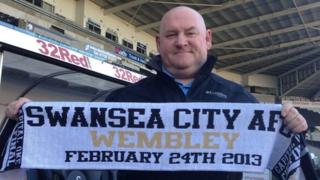 Sunday will mark another chapter in an eventful few years for Swansea City when they walk out at Wembley for their first major cup final.
Ten years ago, the club was struggling to survive financially and a last game of the season win saved them from being relegated out of the Football League.
But since then, their fortunes have completely changed and they are enjoying life in the top half of the Premier League.
And victory in the Capital One Cup final against League Two side Bradford City on Sunday will see the Swans playing European football next season.
The story of the club's rise from near oblivion is well known in football circles and many clubs look to the Swans as a role model of how to run a football club.
There is no foreign billionaire owner on hand to help bring success. Instead it was a group of supporters who chipped in to rescue the club from the brink and to ensure it survived by living within its means.
Fans through the supporters' trust still own 20% of the club and have one supporter-director on the board, which is otherwise made up of local businessmen, also fans. No other Premier League club has this representation.
Huw Cooze is in his seventh year as a director on the board having swapped his season ticket for a seat in the directors box.
"It's a privileged position," the 51-year-old businessman said.
"In the first couple of months there were sceptics, they didn't know if they could trust me - I could feel that. No-one said anything but you could always feel that. They were careful what they were saying.
"I feel I know them now and there's nothing that I'm not aware of happening at this football club.
"Sometimes people will have a chat and I'm not privy to that conversation and I will pull people aside and say it isn't on.
"But I've got to be fair to our club board. They have embraced the concept of a supporters' director being on board.
"I don't know whether it's the fact the boys on the board are working class lads who've stood with me.
"It's not as if I've just met (chairman) Huw Jenkins or (director) Martin Morgan. I've known these guys for years. They were Swansea City fans first and foremost."
The Swans story began in August 2001 when a supporters trust was formed when the club was up for sale and struggling to find a new owner. The trust felt it was the way forward.
Two months later, it was sold by the then-owner Mike Lewis to Australian-based businessman Tony Petty who in a turbulent three-month spell in charge, almost brought the club to its knees.
Supporters took to the streets in protest against Petty's running of the club as he attempted to sack seven players and two coaches, which the Professional Footballers' Association thwarted.
But a local consortium of supporters, headed by former director Mel Nurse, later battled to gain control of the club.
And on 24 January, 2002 - reportedly 24 hours before the club was set to go out of business - they ousted Petty.
Bucket collections
When that takeover was complete, the supporters trust raised funds to buy a stake in the club.
At the time Mr Cooze was involved with bucket collections and leafleting but admitted it was difficult to raise funds with crowds averaging just 3,000 and the club in the bottom tier of the Football League.
He was elected on to the supporters trust board later that year later and current Swans vice-chairman Leigh Dineen was on the club's board as the supporters representative.
Mr Dineen's company later bought a stake in the club, giving him his own place on the board, leaving a gap for the supporters which Mr Cooze was elected to fill in 2006.
"I'm involved in everything," he said. "I'm asked an opinion on everything. It's like any board of any company and it's run democratically. It's as simple as it can be.
"I've fought hard for certain issues for supporters and I've won some and I've lost some. I accept I can't win them all.
"I've got people out there who are listening and watching websites - I do it myself, I know Huw does and I know the others do. We're supporters. We know what supporters want but can't always give it."
He added: "I would say it's 100% the way forward and it's good to have a supporter who's fighting their corner but it's quite important as well to have the rest of the board who are supporters."
On the pitch, few would have expected success coming so quickly.
'Still ambitious'
Since 2003 when the Swans escaped relegation from the Football League, they have risen from the fourth tier to and are now an established Premier League side, which is one match away from Europe in its centenary season.
"We are still ambitious, we haven't got to our level," said Mr Cooze.
"Everyone thinks that's it, we're there just relax and enjoy it, have two or three seasons in the Premier League and accept the inevitable that we might get relegated.
"You talk to supporters two or three years ago and they'd say 'we're not ready for the Premier League, let's stay in the Championship a few seasons and get ourselves established'.
"But you've got to take that opportunity when it arises. It's the same now that we're not ready for Europe but if we're lucky enough to win on Sunday and the Europa League becomes a reality, we have to embrace it.
"I would love to see us in Europe but we've got to win on Sunday."
And he admits he may find it difficult not to celebrate in the directors box should the Swans beat Bradford.
"Sometimes you have to sit with your hands under your legs," he said. "But sometimes it's difficult like most recently against Chelsea in the semi-final."