Carmarthenshire blogger libel case judgement reserved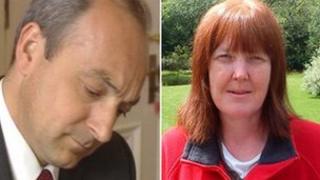 Judgement has been reserved in a case in which a blogger and a council chief are suing each other for libel.
Lawyers representing Jacqui Thompson told the High Court her case was one of "state versus citizen".
She is suing Carmarthenshire chief executive Mark James and the council. He denies libel and is counter-suing,
Lawyers for Mr James said she carried out a "wholly improper" campaign. Mr Justice Tugendhat reserved judgement until an unspecified later date.
Mrs Thompson was ejected from a council meeting and arrested after refusing to stop filming it in June 2011.
The court has been told that Mr James wrote a letter in response to Mrs Thompson's criticism of the council following the incident.
'Duty to respond'
She is suing him and the county council for alleged libel over his comments, which were sent to 74 councillors and viewed 825 times after being republished on another blog.
Mr James' lawyers said he had a duty to respond to criticism of his and the council's conduct.
In their closing submissions, the lawyers said Mrs Thompson had campaigned against the local authority and its staff over the past six years.
But Christina Michalos, representing Mrs Thompson said it was "like a cross between Catch 22 and 1984" that Mr James was using public money to counter-sue Mrs Thompson for her criticism of the fund that allowed him to do it.
She argued that Mrs Thompson's reasons for filming council meetings were "honest and genuine".
Ms Michalos said Mrs Thompson admitted a "poor choice of words" in some of the 737 posts on her blog, but said she was a "layperson", not a lawyer, and no-one from the council complained until after she launched her libel action.