Swansea missing boy found under bean bag after police search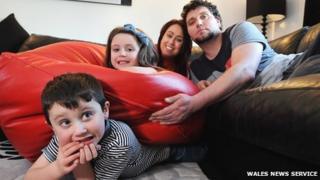 A missing boy who sparked a police search involving a helicopter and sniffer dogs was found two hours later - sleeping under a bean bag at home.
The parents of five-year-old Jenson Lorey called the police after they could not find him at home in Swansea.
A dozen officers joined the search for him - even looking in the family's attic - while the police helicopter and sniffer dogs were called in.
But Jenson's sister finally found him asleep under a giant bean bag.
Samantha and Andrew Lorey reported their son missing at around 20:15 GMT on Monday.
As well as the police search, members of the community also joined in the hunt for Jenson.
Mr Lorey, 29, said: "We had 12 police officers out looking for him, police dogs, and the helicopter. They searched the attic, they searched everywhere.
"Everyone who knew me was out looking but even people who didn't know me were looking too.
"The bus drivers were using their radios, and the taxi drivers were all looking.
"It was just incredible. The support we had was phenomenal."
Eventually, at 21:45 GMT Jenson's six-year-old sister Sienna picked up the red bean bag in the family's living room - but Jenson kept on sleeping.
His mother Samantha said: "I just didn't want to let him go - I can't stop hugging him."
Insp Phil Thomas, of South Wales Police, who led the search, added: "I'm just glad the little boy was found."