Carmarthen post office: Rally over 'shop move' worry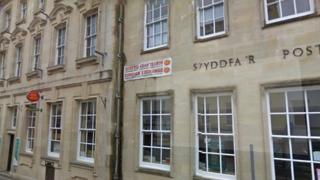 About 150 campaigners have held a rally in Carmarthen over plans that could see the town's main post office moved into a shop.
The Post Office says it wants a retail partner to host a new counter service, replacing the King Street branch.
But some residents say it could damage the shopping area of King Street.
The Post Office said the discussions were part of a reorganisation, there will be no compulsory redundancies, and the service will continue.
Protesters raised the issue in a demonstration at Nott Square on Saturday morning, and hope to hold discussions with Post Office officials.
The town's mayor, Philip Grice, said the King Street post office was one of the main reasons shoppers still travelled to the area.
"It is one of the things that attracts people to King Street. If if goes, the fear is that the street will become derelict and fail," he said.
"It is very early in the process, but we want the Post Office to understand that there is a very strong feeling in Carmarthen about its future.
"We want to tell them: 'Please, please, don't move our post office'".
No job losses
The rally was addressed by local politicians and union representatives.
But ahead of the demonstration, the Post Office insisted that no decision had yet been taken on the future of the King Street branch, and a public consultation would take place if any plans were brought forward.
"The branch has been identified as one that could potentially be partnered with a retailer between the autumn of this year and spring of 2015, with any change being subject to a six week public consultation to gather the views of the local community," said a spokesperson for the Post Office.
"We are committed to having a Post Office branch within the area".
The Post Office said the current discussions are part of a wider reorganisation of its branch network, in a bid to stem losses that are expected to reach £40m across the UK this year.
Managers also stressed that there would be no compulsory redundancies at the branch, whatever the outcome.
"This is not a closure programme, the service for our customers will continue through a retail partner in the town," insisted the Post Office spokesperson.