Whitland train crash: Oswald Davies' suspended jail term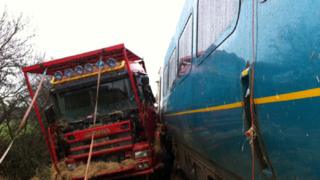 A hay truck driver who caused a train crash injuring passengers has been given a suspended jail sentence.
Oswald Davies, 49, was told he had shown a "high degree of neglect" after admitting endangering passengers' lives at Whitland, Carmarthenshire.
The driver of the Milford Haven to Manchester train could not stop in time after spotting the lorry across the line, Swansea Crown Court heard.
Davies' nine-month sentence was suspended for 18 months.
The court heard 24 passengers suffered minor injuries in the accident which caused £250,000 in damage to the train and the cost of diverting services.
Bales of hay were scattered across the track after the train hit the lorry on the Henllan Amgoed railway crossing.
Davies, of Llanboidy, Carmarthen, was also ordered to carry out 300 hours of community work.
'Warning'
Judge Keith Thomas told him: "There was a high degree of neglect on your part.
"You were driving a truck and trailer carrying hay towards a sign telling drivers they must stop and phone to obtain permission to cross the line.
"You did not obey the sign."
The court heard that Davies had driven over the same crossing hundreds of times in the past few years.
He told Swansea Crown Court: "I was terrified when it happened but thankfully no-one was killed."
But he claimed he did not think that the signs warning long-load drivers applied to him.
Judge Thomas said: "This deserves a custodial sentence but because of Davies's good character I am able to suspend the sentence."
After the hearing, Chf Insp Sandra England, the British Transport Police Welsh sector commander, said it was "astounding that no one was seriously injured or killed in this incident".
"Davies's actions not only put rail staff and passengers' lives at risk but also caused massive disruption to the rail infrastructure."
Mike Tapscott, operations director for Arriva Trains Wales, said the "severity and impact of level crossing misuse to the safe running of the railway" should not be underestimated.