Soldier Michael Maguire shot in non-combat zone while training, inquest told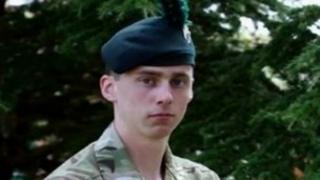 A soldier died after being shot in the head in a non-combat zone on a training range in Pembrokeshire, an inquest has heard.
Ranger Michael Maguire, 21, was not wearing a helmet and was waiting in a "safe" area in a field a kilometre away from the action zone when he was hit.
The soldier was at the Castlemartin range with the 1st Battalion of the Royal Irish Regiment at the time.
The inquest at Cardiff coroner's court continues.
Army medic Michael Gleeson said he was sitting in the battlefield ambulance when a call came through saying someone had been hurt.
"As we arrived the people around him started grabbing kit and throwing it out of the way.
"I ran over to him, they had applied an emergency bandage to Michael Maguire's wound, to the left side of his temple.
"The whole time I was with him he was unconscious," he added.
Ranger Maguire, who was 6ft 7in tall, was standing in an administration area where soldiers eat their lunch and pack their gear when he was struck in the head.
Police investigation
Earlier the resumed inquest, which had sat for two days in November, was given a "refresher" course in the technicalities of the case.
Detective Sergeant Roger Smith led the Dyfed Powys Police investigation into the death.
DS Smith demonstrated how areas used for shooting were monitored and how specific compass coordinates governed where live rounds could be fired.
He detailed his own theory regarding what had happened and how Ranger Maguire had been shot, and from where he believed it had happened.
The jury heard that a "section" of eight soldiers were taking part in the exercise at the time of the shooting.
'Loved and missed'
They were divided into two equal sub-sections, referred to as Charlie and Delta, with one laying down suppression fire while the other moved toward a target.
Qualified supervisors oversaw two soldiers each at all times, meaning there were four supervisors for the eight men.
Each sub-section is usually equipped with rifles and one machine-gun, but on this occasion the section as a whole had just one machine gun.
After the shooting gun casings ejected at various points during the exercise were collected as evidence.
One machine gun bullet was discovered buried in the ground close to the "safe area" where Ranger Maguire was shot, and was deemed to be the fatal bullet.
A statement from his father, Michael Maguire senior, was read out at the hearing.
"I loved Michael dearly and will miss him terribly," he said.
"He was a sporting, fit lad and very lovable and he was always very happy with Army life."
Mary Hassall, Cardiff and Vale of Glamorgan coroner, read the statement to the inquest jury of six women and five men.
Mr Maguire and his daughter Sheila and son Jimmy listened in silence as the words were read out.
Ranger Maguire was from Bantry, County Cork, in the Republic of Ireland.
He joined the 1st Battalion, The Royal Irish Regiment on 10 2010, and was sent to Afghanistan four month later.
The inquest continues.