Saputo: Newcastle Emlyn cheese plant to close, 70 jobs affected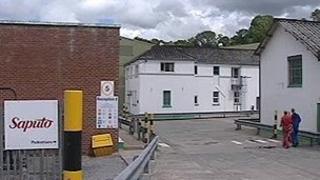 A Canadian cheese production plant in Carmarthenshire is set to close affecting 70 jobs.
Saputo says the dairy in Newcastle Emlyn is not profitable and a 30-day consultation has now begun.
The company produces cheese, milk, yogurt, dairy ingredients and snacks which it sells in more than 50 countries.
Local assembly member Rhodri Glyn Thomas said he would be raising the matter with the Welsh government.
The Newcastle Emlyn site is mainly responsible for making mozzarella for the food service market.
Another plant, based in Heiden, Germany, will close.
In a statement the company said it bought the plants in Germany and Carmarthenshire in 2006 and 2007.
"The past few years have been a learning and challenging experience," said a company spokesperson.
The firm's founder and chairman, Emanuele Saputo, told BBC Wales that the company had found the market for dairy products to be "marginal at best and highly competitive".
"We felt that the amount of time and energy it takes us to manage the business perhaps would be better utilised in other markets, where the margins are much more substantial."
He said that 85% of their production costs went on milk, and as the price of milk rose it could not be transferred to customers and consumers.
It is a "no-win" situation with the "volatility" of the price of milk in both the UK and Germany, he added.
He said the decision to close the plants had not been easy.
"When we acquired the assets we went in with the best of intentions to try to create not just jobs for the folks in each of our facilities but really to consider providing them with careers. So we take these types of decisions very, very seriously.
"But, unfortunately, we've realised with the long-term sustainability of the business there was no way we would be able to carry on."
Carmarthen East and Dinefwr AM Rhodri Glyn Thomas said the news was "disappointing for the employees at Saputo and the wider rural industry".
He added: "Many farmers in west and south west Wales supply their goods to the plant.
"The importance of the site was widely recognised during the fight to secure the future of the former Dansco factory.
"It's imperative that all options are now explored to keep operations going and to keep workers in jobs - whether this is through finding a potential buyer or through a local co-operative model. "
He would be raising the matter with the Welsh government "so that as much support as possible can be provided to the work force".