Mystery over animal's body on South Beach, Tenby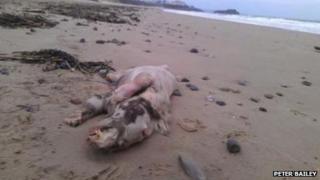 Mystery surrounds the identity of an animal's carcass found on a beach in Pembrokeshire.
The hairless body was found on Tenby's South Beach last Friday.
It was photographed by Peter Bailey who saw the "disgusting-looking thing" while out walking his dog.
Pembrokeshire council was alerted to reports of a Jack Russell dog washed up on the beach, but Mr Bailey says he thinks it was more likely to be a badger.
Mr Bailey, 27, from Tenby, said: "I was walking my dog on South Beach, from Tenby to Giltar Point.
"My dog started running around in circles as if she was chasing her tail. Maybe she was trying to attract my attention because she'd found this thing.
"It was a disgusting-looking thing.
"My first impression was that it had the face of a horse, the claws of a bear and the body of a pig.
"It was obviously decomposing and it had lost most of its hair."
Asked if he thought it could have been the reported Jack Russell, Mr Bailey said: "No, it was too big.
"I wish I'd put something next to it to compare the size. I'd say it was just less than a metre long.
"I could see it had lighter hair above its eye and darker hair lower down, so maybe it was a badger."
Dr Dan Forman, from Swansea University's College of Science, said: "It is difficult to say from the picture, but judging by its size and the fact it has five toes, it could be a badger."
A spokesman for Pembrokeshire council said he believed from the pictures that it was a dog that had become bloated after a long time in the water.
He said the council had been alerted to reports of a dead Jack Russell dog on the beach, but staff who went there to investigate found nothing.
The RSPCA said it had not been called to respond to the discovery.