Rhossili Bay holiday cottage evacuated after grass fire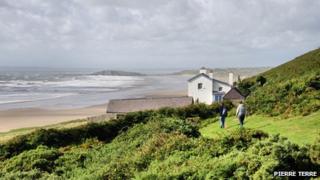 A holiday cottage on a celebrated beach on the Gower peninsula was evacuated when smoke from a large grass fire threatened its occupants.
The eight holidaymakers were asked to leave The Old Rectory on Rhossili Bay, which is said to be one of the most sought after National Trust cottages.
The occupants left at about 22:00 GMT on Monday and returned two hours later.
Earlier this month Rhossili Bay was voted third best beach in Europe in a poll by travel website TripAdvisor.
Mid and West Wales Fire and Rescue Service said the holidaymakers were told to leave the property because of the amount of smoke caused by the blaze, which had been first reported at 20:17 GMT.
"They went to the village and they opened up the village hall for them and they were allowed to return later," said a spokesperson.
"It was the smoke that was the problem, not the fire. There were 150 hectares of heathland on fire with a fire front of about a mile-and-a-half."
'Stunning location'
The holiday cottage is managed by the National Trust and, as the only building on the bay, offers dramatic views.
The Guardian recently said the cottage was one of the trust's "most sought after, thanks to a stunning location overlooking Rhossili Bay across a runway of sandy beach".
The trust website describes the cottage as "the sole building above a wide expanse of sandy beach... set on a raised terrace in the dramatic landscape of Rhossili Bay with uninterrupted views of the sea and the tidal island of Worm's Head".
The house, which has been used as a location in the BBC TV drama Torchwood, dates from the 1850s with parts of the outbuildings said to be possibly medieval.