Spain stag party's Swansea City visit to meet Michu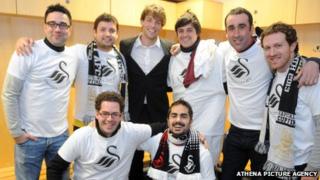 While many a Welsh stag party has flown out to Madrid or Barcelona to watch the biggest names of world football, the tables may be starting to turn.
A stag group from Spain travelled to Swansea at the weekend to watch the Swans and their talented Spanish striker Michu.
Top scorer Michu met them after the game and they were also given a tour of the club's Liberty Stadium.
And now there are hopes more football fans from Europe will follow suit.
The stag group had travelled from San Sebastian in the Basque Country, home of Real Sociedad FC who have previously been managed by famous Swansea old boys John Toshack and Chris Coleman.
The visit was a surprise for the groom Iker Mintegui who had flown with his friends to Manchester Airport on Friday.
Not only did Swansea beat Newcastle 1-0, but the stag party managed to hang out with hot shot Michu.
Mr Mintegui told the Evening Post newspaper: "It felt like I was in a dream and I'm very pleased with my friends and Swansea City for giving me the chance to meet Michu.
"He was brilliant and gave me a present of a T-shirt and trousers. He spoke with us for a while and we took some pictures and all was brilliant."
Michu has attracted huge media coverage since signing from Rayo Vallecano in Spain and has banged in 15 league goals making him the fourth top scorer in the Premier League.
But Michu is not the only Spanish player at Swansea - there is also Angel Rangel, Chico Flores and Pablo Hernandez - and there are plenty of other nationalities in the squad if stag parties elsewhere fancy a visit.
Tony McGetrick, chairman of Tourism Swansea Bay, said the city hosting Premier League football had led to a positive effect on tourism in the whole area.
"The profile of Swansea has risen tremendously over the past two seasons and hopefully for many years to come," he said.
"It's not just Swansea, people can come here to see the other Premier teams as well. It's a huge draw.
"It's a fantastic boost for tourism in the area and Swansea full stop."
He said Swansea University had seen a big jump in applications, particularly from overseas students, because they wanted to watch Premier League football while they were studying.