Legal high drugs: Charity Sands Cymru warns of problems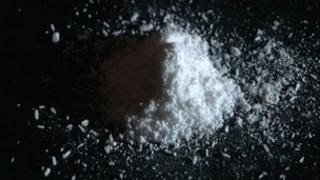 The rise of new "legal high" drugs in south Wales has the potential to cause even more problems than those from the influx of mephedrone, a drugs charity is warning.
Swansea-based Sands Cymru says local drug agencies and the police were "caught out" by the speed with which mephedrone, known as meow meow, spread.
It will host a conference in Swansea on Thursday to address the problem.
Last year the number of people taking the drug rose in south west Wales.
Mephedrone is more than twice as prevalent in Wales as it was in 2011, a police report suggested in October last year.
Until April 2010 it was considered a "legal high", but given its potency and powerful side effects the drug was reclassified.
Potential side effects can include fits, memory loss, potentially fatal heart problems and brain damage.
Dr Adam Winstock, consultant psychiatrist and founder of Global Drugs Survey, is speaking at Thursday's conference.
He said he believed mephedrone use had spread so quickly in south Wales because areas like the valleys historically had a high amphetamine use, and the drug mimicked many of the effects while being relatively inexpensive.
Mephadrone was given class B status and is illegal, but Dr Winstock said new, similar drugs were relatively easy to produce in overseas laboratories in places like the Far East.
However he stressed that users were more likely to use traditional drugs such as cocaine, amphetamine and cannabis.
Suicidal thoughts
Ifor Glyn, chief executive of Sands Cymru, said: "Legal highs or new and emerging drugs could become a real problem in Wales - even greater than what we have seen with mephedrone.
"There are so many new drugs available and so easy to get hold of.
"Helping agencies and the police were caught out by the way mephedrone became so widely available during the past 18 months in parts of Wales. We must be more prepared for the emergence of any new drugs and the associated physical and psychological health."
Mr Glyn said these new drugs were appearing regularly and his charity and others needed to be in a position to "prevent, treat and apprehend".
"We cannot afford to just ignore the issue," he added.
Elsewhere in the UK there has been a decline in the popularity of mephedrone and similar recreational drugs over a 12-month period, it was reported in October last year.
The drug has also been linked to depression and other mental health problems, insomnia, palpitations, hallucinations and suicidal thoughts, and is believed to be addictive.
There was a 165% increase in the number of offences involving mephedrone in Wales between April and June last year, compared with the same period in 2011.