Wales football manager Chris Coleman helps 'vulnerable' woman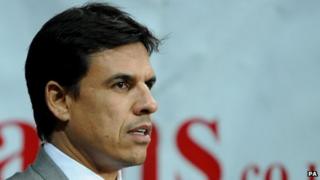 Wales football manager Chris Coleman has been praised by police after helping to reunite a "vulnerable" elderly woman with her family.
He saw her by the road in Haverfordwest while driving to an evening roadshow organised by Haverfordwest County FC at Pembrokeshire College.
The woman could not remember where she lived so he arranged for police to meet them at the college.
Dyfed-Powys Police thanked him for his assistance.
Coleman was also visiting visited former Football Association of Wales president Des Shanklin at his Pembroke Dock home.
'Typical of Chris'
As he left Mr Shanklin's home and headed away towards the roadshow, he spotted the woman, in her mid 70s, and stopped to help.
A Football Association of Wales spokesman said: "When he saw her, he wasn't going to leave her. He asked her where she lived. She couldn't tell him anything.
"He said 'right, I'll take you with me and sort it'. He rang me and a colleague to tell us what had happened and for us to warn the club, to arrange a cup of tea for her when he arrived.
"It's typical of Chris. He would help anyone. He's like that. It's the type of thing he would do."
Coleman did not know the woman had already been reported missing by her family and when police arrived at the college she was quickly reunited with them.
Cup of tea
Coleman told the Western Telegraph newspaper: "When I made my way to the college I actually missed the turning to go up the hill.
"I was about to try and turn around when I noticed an old lady at the side of the road. She seemed very disorientated and distressed.
"I asked if she was okay and she said she lived in Haverfordwest but she was lost. So I got her in the car and we drove around a bit to see if she could remember where she lived but she couldn't.
"I rang my colleagues, who were already at Pembrokeshire College, to say I was taking her there and asked if they could contact the police. When we got there she had a nice cup of tea and thankfully, the police were able to return her home safely."
In a statement, the police said: "Dyfed-Powys Police would like to thank Mr Coleman for his assistance with a vulnerable member of the public.
"We fully appreciate he was travelling to an engagement during his busy schedule - yet still took time to ensure the safety of an individual who was in need of help."