Dyfed-Powys commissioner first to choose new police chief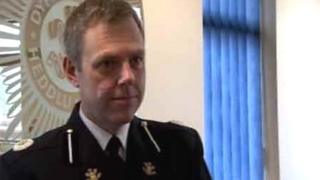 A new chief constable has been appointed by a police commissioner for the first time in Wales.
Simon Prince, 47, Gwent's assistant chief constable, will start his job leading Dyfed-Powys Police on 1 April.
Three candidates were interviewed before he was recommended by police and crime commissioner Christopher Salmon, who was elected in November.
Mr Prince said he would put the public first and make sure staff provided "excellent frontline services".
His selection was confirmed by the police and crime panel.
"I seek to build upon the excellent work and continue to improve crime levels and detection rates," he said.
"But it isn't all about numbers. It is also about the accessibility of services, and the level of confidence people feel in their communities and about their trust in the service they receive from their police force.
"I look forward to meeting residents and listening to their concerns and their needs and then seeking to tailor our services appropriately. I will put the public first and make sure all our staff provide excellent frontline services."
Mr Prince, who chalked up 22 years service with Gwent Police, said he was ready to face the challenges posed by Dyfed Powys Police, which is geographically the large police force in Wales and England.
"The geography of the force and rural areas bring unique challenges that I will seek to understand so I can make sure we meet the needs felt by everyone, including our more rural, isolated communities," he said.
Mr Prince added: "In times of financial challenge I will be looking where we can strip out waste, reduce bureaucracy and make sure every penny spent focuses on delivering an excellent service to the public.
'Great privilege'
Police commissioner Christopher Salmon said it was a strong field of candidates who were put through a rigorous process.
"The panel and I all agreed that Simon was the right person to lead the fight against crime and build the team in Dyfed Powys for the future," he said.
"It is a great privilege to be the first commissioner to appoint a chief constable in Wales and I look forward to working with Simon Prince from April."
Police and crime commissioners were elected in November and are responsible for setting priorities for their force, overseeing its budget and hiring the chief constable.
Mr Prince, who is married with a daughter and lives in south Powys, replaces Jackie Roberts who became the first female chief officer at Dyfed-Powys police when she was appointed in June last year.