£3m lottery win for Swansea couple Tommy and Carol Lisk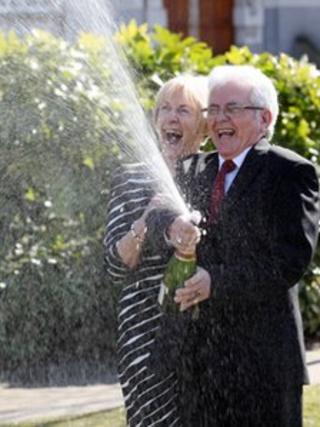 A couple celebrating their 50th anniversary have scooped a £3m lottery jackpot and are spending some of it on a belated honeymoon.
Tommy and Carol Lisk, from Swansea, were planning their "modest" golden wedding celebrations when they struck lucky.
Retired coal miner Mr Lisk, 77, said he wanted to take his wife, 69, on the honeymoon they never had.
The couple had already booked a budget cruise, but upgraded to a luxury cabin.
"It will be a honeymoon 50 years late because we had no money to go away when we got married," said Mr Lisk.
"I've always wanted to treat Carol to the honeymoon we never had - now we can it do it in style."
The pair, married on 23 March 1963, spent everything they had on a deposit for their £2,400 bungalow in the village of Loughor.
They have lived there all their married life but now plan to buy a more modern house with their lottery winnings.
"There's one condition - it has to be in view of the British Legion club where I spend a lot of my time," added Mr Lisk.
The couple also plan to buy a holiday home in Cyprus, but Mr Lisk has no plans to swap his modest Citroen C3 car because he is "happy with it".
Good causes
They will also be using their windfall to look after their sons Stephen, 41, and Mark, 43, and their four grandchildren.
A season ticket for Swansea City fan Stephen, a foreman in a car factory, is also on their shopping list.
Mr Lisk told how he became an overnight millionaire when he checked the lucky dip ticket on Sunday.
He said: "When the first three numbers came up I thought I'd won £10.
"I couldn't believe it when all six came up.
"Carol was still in bed when I told her - it was a lovely Mother's Day present for her."
Mr Lisk said she would be putting some of the money towards good causes dear to her heart, including the NSPCC and cancer and blind children's charities.