Measles: 'Impossible to say' when outbreak will end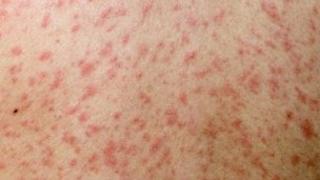 A GP believes it is "impossible to say" when a measles outbreak in south west Wales will be brought under control.
Health officials confirmed 43 more cases have been reported in the Swansea area in the last week, taking the outbreak to 252 with 38 hospitalised.
And Swansea GP Charlotte Jones said the reason for the outbreak could be down to "flawed" evidence linking the MMR vaccine to other illnesses.
Parents are being urged to make sure children of all ages have MMR jabs.
In total, 64 secondary and primary schools and nurseries have been affected by the illness and Public Health Wales said the spread was a "serious concern".
Measles can cause serious illness and can, in some cases, be fatal.
The majority of the new cases are in the Swansea area but cases are being reported across south west Wales.
Speaking on BBC Radio Wales, Dr Jones said: "Over the last few weeks we've seen a significant number of patients with measles symptoms and some with some unpleasant complications as well.
"I think over the years the number of people having the MMR vaccine has been lower than in other parts of the country.
"A lot of reasons for that has been historical relating to the flawed evidence about some links with the vaccine with other childhood illnesses, and I think that made parents not want to give their child the vaccination.
"Unfortunately that has meant that the community coverage in this area has been lower than that required to stop the spread of an outbreak, and unfortunately we are now seeing the effects of that despite us trying hard to encourage parents and children to have the vaccination."
Dr Jones said teenagers, more than any other age group, were particularly affected by the outbreak, and they were "the most unwell".
'No risks'
She was uncertain about whether the outbreak would be brought under control soon.
"It's a difficult one to say," Dr Jones said. "The public health and health protection are monitoring the situation closely.
"They have some very specialised equipment which can monitor the outbreak, and where the new cases are appearing to see if the new cases are diminishing, but I would hope that it will settle down but it's impossible to say at the moment.
"With the weather conditions, with the fact that it's happened in school children who are close together, unfortunately that is an ideal breeding ground for the spread of any infection not just measles."
Dr Jones said there were no risks associated with the MMR vaccine, but if people had concerns they were to speak to their GP or practice nurse.
Dr Marion Lyons, director of health protection for Public Health Wales, has urged parents of unvaccinated children to make immediate arrangements with their GP for their children to receive the "safe and highly effective MMR vaccine".
Typical symptoms of measles include fever, cough, conjunctivitis and a rash.
Complications are quite common even in healthy people, and around 20% of reported measles cases experience one or more complication.
These can include ear infections, vomiting and diarrhoea, pneumonia, meningitis and serious eye disorders.