Street drinking banned in Llanelli town centre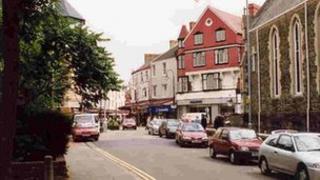 Drinking in public places is banned across much of Llanelli town centre after a move to tackle alcohol-related anti-social behaviour and disorder.
Under Carmarthenshire council's first Designated Public Place Order (DPPO), the ban covers an area including Elli, Tyisha and Glanymor.
The Safer Communities Action Group in Glanymor and Tyisha requested the DPPO after problems with on-street drinkers.
The ban could see drinkers who refuse to co-operate with police fined £500.
DPPOs give police the power to stop someone drinking alcohol in a public place or confiscate it if the person is judged to be behaving - or likely to behave - anti-socially.
Although it is not an offence to drink alcohol in a designated area, police have the power to tell people not to, and to order them to surrender alcohol.
Failure to comply, without reasonable excuse, is an arrestable offence which could result in a fine.
The DPPO was enforced under the Criminal Justice and Police Act 2001 after a consultation by the council, and covers a larger area than the Safer Communities Action Group originally requested.
The council's community safety manager, Kate Thomas, said: "This is the first Designated Public Place Order in Carmarthenshire.
"The request for the order was supported by the police and there was evidence to support the need for such an order.
"It will be reviewed after a year to ensure that it is being effective in addressing local problems and covers the areas it needs to."
Signs will be erected in the areas concerned confirming there is a DPPO in place.