Llanelli fire crew cuts risk, says Fire Brigades' Union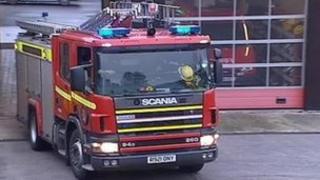 Halving the number of firefighters in Llanelli from 28 to 14 could put people at risk, a union claims.
Mid and West Wales Fire and Rescue Service introduces new shift patterns at the station on 8 April.
The Fire Brigades' Union (FBU) is opposed to the change and says it fears it could breach the European Union's working time directive on rest periods.
But the fire service said crews were looking forward to the shifts, and that they would have adequate breaks.
There are calls for an extraordinary meeting of the fire authority to discuss the FBU's concerns, and the fire service said the request was being processed.
Fears over cuts to the number of firefighters in Llanelli were raised in 2011, but at the time the region's chief fire officer Richard Smith said there had been a misconception that numbers in the Carmarthenshire town could fall from 28 to 13.
Objectors were concerned that lives could be put at risk, and they claimed at the time that Llanelli needed 28 firefighters. More than 6,000 signed a petition.
Speaking about the new working arrangements taking effect in April, an FBU spokesman said there were plans for a cut from 28 to 14.
"We currently work two nine-hour shifts, two 15-hour night shifts and then we have four days off.
"There are four watches at the station each with seven firefighters, but there are plans for fire crews to cover the station for 24 hours but with 14 people, with five on duty at any one time."
The FBU said the existing 28 firefighters at Llanelli were being moved to other stations, and the town would be crewed by 14 people new to the station.
"We're not sure how the fire service is going to work out the shifts, but in Pontardawe they have moved to a system where firefighters work 12 hours a day from 10am to 10pm," added the FBU spokesman.
"From 10pm they are on standby time, but remain at work and spend four days doing this.
"We feel the fire service's plans break the European working time directive [requiring a minimum 11-hour rest between shifts]. I don't know how the firefighters are going to take the time off they need."
The spokesman said Llanelli fire station had more than 1,000 calls a year and had several important industrial sites, including Tata steel at Trostre.
"We are concerned about the fire service's plans and we think it isn't a safe system for Llanelli, its people or its firefighters," he said.
The conciliation service, the National Joint Council for Local Authority Fire and Rescue Services, published a report in January which questioned Llanelli's new shifts.
In the report, technical advisory panel chair Steve Hodder was worried the shifts might not be fully in keeping with working time regulations, and highlighted his concerns about rest periods.
But his report said the issues could be resolved by the fire service ensuring staff worked appropriate shift patterns with adequate rest periods, in line with working time regulations.
A fire service spokeswoman said: "Following a refusal by the Fire Brigades' Union to contemplate a collective agreement, the fire service has introduced a guiding principles document for firefighters working at Llanelli which ensures compliance with the aforementioned recommendation.
"The new crewing arrangements will be introduced at Llanelli fire station on 8 April and the firefighters who will be working there from that date are all very much looking forward to starting."