Swansea University: St Modwen to build new campus first phase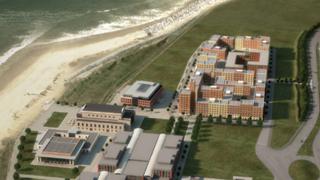 Swansea University has signed a deal with developer St Modwen to build the first phase of its £450m second campus.
Work on the science and innovation campus on the 69-acre site off Fabian Way is set to begin next month.
About 4,000 direct jobs will be created during the construction phrase with a further 6,000 indirect jobs supported in the wider economy as a result.
The first phase, costing £150m, is expected to be completed by the summer of 2015.
Preparatory work has already started ahead of construction, after planning permission was granted for the first phase by Neath Port Talbot Council last December.
Swansea University's vice chancellor, Professor Richard B Davies said the new campus is a transformational project for Wales and the university.
"It promises to become a global exemplar for how a research intensive university can work effectively with industry, helping to drive economic regeneration and creating exciting employment opportunities for its graduates."
Bill Oliver, chief executive, St Modwen said: "Over the next few years, we look forward to working closely with the university on this important project, as well as engaging with the local community and key stakeholders."
Oil giant BP originally donated the land for the campus while businesses who will be involved include Rolls Royce, Hewlett-Packard, Tata, Bell Labs and BAE.
The university estimates the campus would contribute more than £3bn to the regional economy over the next 10 years and create thousands of jobs.
Plans include a research and testing facility operated in partnership with Rolls-Royce.
There will also be new teaching and research facilities for the university's engineering, business and economics, maths, and computer science departments as well as student residential accommodation.
The university's Singleton Park campus will also be regenerated.