Injured fisherman flown to Morriston Hospital, Swansea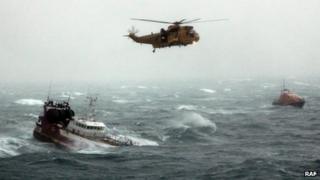 A Portuguese fisherman has been airlifted to hospital after suffering a head injury on a boat off Pembrokeshire.
Coastguards were contacted by the French authorities at 12:00 GMT on Thursday to request assistance.
The vessel was 30 nautical miles off St Ann's Head and bad weather prevented an RAF winchman rescuing the casualty.
The vessel headed inshore to make an airlift possible, and the casualty was flown to Morriston Hospital, Swansea.
Milford Haven Maritime Rescue Coordination Centre (MRCC) tried to contact the vessel, but said those on board spoke little English.
A member of MRCC staff who spoke French managed to pass on vital information.
An RAF search and rescue helicopter from Chivenor, north Devon, was sent to the scene, but was hampered by bad weather.
The RNLI all-weather lifeboat from Angle was launched to meet the vessel, assisted by HMS Echo, and it was asked to head closer to land to calmer waters.
The RAF helicopter returned to the scene before airlifting the casualty to hospital.
Barrie Yelland, watch manager at Milford Haven MRCC, said: "Due to the weather conditions, this was a challenging rescue for all involved."