Eco 'hobbit home' in Pembrokeshire faces demolition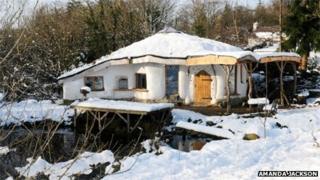 A hobbit-style eco-home is threatened with demolition after it was built in open countryside without planning permission.
Charlie Hague and Megan Williams, both 25, have been told to take down the roundhouse in Glandwr near Crymych.
The eco-home has walls made from straw bales, a grass roof and has branches as its frame.
A Pembrokeshire council enforcement notice states the house was "harmful to the rural character of the locality".
The couple have since submitted a retrospective planning bid and are appealing an enforcement notice to demolish their home.
The home was built on land owned by Mr Hague's father and has walls made of straw bales covered with lime plaster and a grass roof.
They had been living in a caravan for four years but moved in just before the birth of their son, Eli.
Mr Hague, a sculptor, says he spent more than a year creating the single-storey dwelling from locally-found materials, including branches used for the framework of the roof.
The couple had help from family and friends - they live next to the eco village Lammas, nine smallholdings designed to be low impact and self-sufficient - but did not apply for planning permission.
They estimate it cost them around £15,000 to build.
A spokesman for Pembrokeshire council said: "An enforcement notice has been served on this property as it is alleged that an unauthorised dwelling has been built in open countryside without planning permission.
"It is currently the subject of an enforcement appeal."