St Davids Cathedral education and pilgrimage centre opens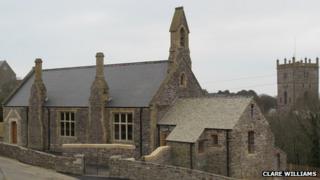 More than 800 years after a Pembrokeshire cathedral was declared a place of pilgrimage, a centre dedicated to pilgrims has opened.
Ty'r Pererin will serve visitors to the nearby St Davids Cathedral in St Davids.
The new education and pilgrimage centre is designed to become a focal point for people to learn about St Davids.
It has been set up in a former school and offers facilities for adults and children.
St Davids Cathedral became a place of religious pilgrimage in the 12th Century, and its shrine was deemed so important by Pope Calixtus II that two pilgrimages to St Davids were seen as equivalent to one to Rome and three were equivalent to one to Jerusalem.
The new education and pilgrimage centre hopes to inspire a new generation to learn about the site and make their own pilgrimages through life.
Ty'r Pererin operates from a former Victorian junior school and offers educational programmes to schoolchildren as well as activities for adults keen to make their own spiritual journey to the site.
The aim of the centre is to engage with the curriculum so youngsters can learn about their Christian and Welsh heritage via artwork and drama and through interactions with the cathedral and surroundings.
Spiritual journey
The mandate of the dean of St Davids, the Very Reverend Jonathan Lean, is to build on the public interest surrounding the recent restoration of the shrine of St David, and to turn visitors to St Davids into pilgrims.
Education and pilgrimage officer Janet Ingram said the concept of pilgrimage was enjoying a resurgence in popularity and the idea of the centre had been warmly received by schools so far.
The education activities Ty'r Pererin offers range from Bible stories and walks around the cathedral for younger children, to learning about key beliefs and practices of the Christian faith and thinking ahead to further education and careers for the older children.
Young visitors are also offered the chance to make their own pilgrimage by following in the footsteps of pilgrims from centuries ago.
"We walk from the chapel of St Non, through the city and up to Ty'r Pererin to hear some more about who St David was, then down to the cathedral and later to the shrine," said Mrs Ingram.
'Unbroken chain of prayer'
"They are invited to stop at various points and reflect on the tradition and perhaps wash their feet or travel through the city centre and discuss what that feels like in the context of their own lives, or the transition of moving to secondary school from primary school.
"It's about children being able to tell their own story, either about what happens at school or their own memories and adding to that as they visit and walk around the cathedral and its environs."
Groups of children are even invited to take part in another aspect of the traditional pilgrimage - that of silent reflection - something which might seem an onerous task with a class full of chatty children.
Mrs Ingram said: "It's surprising how they suddenly come to understand the depth of silence and they will sit there for 10 minutes.
"It's quite profound for both teachers and pupils."
The centre is also open to groups of adult pilgrims who want to visit for spiritual retreats and will soon play host to some deacons who are about to become priests and are enjoying a retreat at nearby St Non's.
Canon Dorrien Davies said the site had much to offer its visitors, both young and old.
"The hope is that even at a young age these children will realise it's something special and will be drawn back to it," said Canon Davies.
"We hope tourists will leave here as pilgrims who realise it's not just a historical building but a living, working, Christian community that's held witness to Christianity since the days of St David and before.
"There's an unbroken chain of prayer. It has a historical connection but is a living body and not just a symbol of the past; it's a beacon for the future and a foundation for the present."