Tata Steel worker suffers burns in accident at Port Talbot plant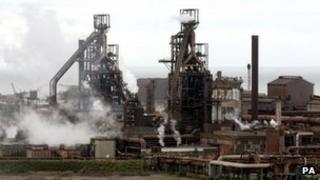 A worker has suffered burns in an accident at the Tata Steel plant in Port Talbot, the company says.
Tata said there was a spillage of molten steel which was being poured from a vessel on a crane in the continuous casting plant.
Two others workers were treated for shock after the accident on Tuesday night and all three were taken to Morriston Hospital in Swansea.
The Health and Safety Executive (HSE) has been informed.
A HSE spokesman said: "It's an initial inquiry at the moment. An inspector will be visiting the site."
Tata Steel said the injured worker was in a comfortable condition in hospital recovering from the burns which were caused by heat, as there was no direct contact with the molten material. His two colleagues were discharged.
The workers were treated by the on-site emergency services until paramedics arrived.
Emergency plan
Fire and police were also called under the site emergency plan.
Tata spokesman Robert Dangerfield said health and safety remained the company's number one priority.
"We always look to learn what we can from any incident. We are working at a high capacity at the moment and are in full production," he said.
"Our thoughts are with our colleague who's been hurt."
South Wales Police confirmed they were called to an incident at the steel works at 22:45 BST on Tuesday.