Skokholm: Alice Williams replica on new island home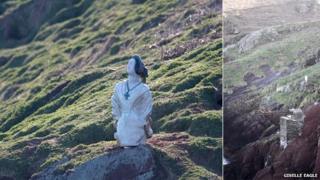 A replica of a ship's figurehead used as a statue on a Pembrokeshire nature reserve for 85 years has been moved to the island.
The Alice Williams sank in 1928, but not before her figurehead was salvaged by renowned naturalist Ronald Lockley.
He kept the statue on Skokholm, where he founded the UK's first purpose-built seabird observatory.
The original has been moved indoors and a replica, made in the Pembrokeshire town of Dale, has replaced it.
When the schooner Alice Williams foundered off Skokholm, it allowed a young Lockley to salvage timbers he needed to renovate his farm as well as several years' worth of coal.
The £5 salvage price also landed him the figurehead of Alice Williams, after whom the vessel was named when it was built in Llanelli in 1854.
Lockley placed the statue overlooking the island's South Haven, but after a lifetime open to the elements Alice has now being moved indoors following a refurbishment.
The Friends of Skokholm and Skomer fundraised to commission a replica from local artist Sean Kehoe.
Settled by Vikings
Mr Kehoe said he had had to wait for the right piece of driftwood to be washed up before he could begin the work.
He used part of a sycamore which had fallen into the water in the autumn.
He said: "She lost an arm when the wreck occurred. There's a story that Lockley saw the figurehead floating about.
"I've had to reconstruct all the right side and improvise and make her as I think she would have looked originally. I've made it so it looks old, otherwise it would not really work."
Skokholm was first settled by Vikings around the late 10th or early 11th Century, possibly as a staging post en route to the Danish trading colony at Sveinsey - modern-day Swansea.
Its name is Norse, meaning Wooded Island, and shares a common root and translation with the Swedish capital Stockholm.
Changing hands many times over the centuries, it once belonged to Sir John Perrott, the illegitimate son of King Henry VIII.
In 1646 his descendants sold Skokholm for £300 to barrister William Philipps, in whose family it remained until 2005.
Today it belongs to the Wildlife Trust of South and West Wales (WTSWW), who successfully campaigned to raise the £650,000 asking price and bought the island's lighthouse - one of the earliest remaining in Wales - in 2012.