Tribute to Ferryside lorry driver Matthew Fulcher after M6 crash near Carlisle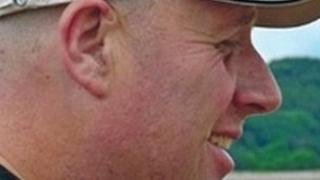 The family of a lorry driver who was killed when his vehicle crashed on a slip road of the M6 say they are devastated by his death.
Matthew Fulcher, 42, of Ferryside, Carmarthenshire, died when his vehicle left the motorway at junction 42, near Carlisle in Cumbria, on 5 April.
Police said the lorry was the only vehicle involved in the crash just after 07:00 BST.
Mr Fulcher's wife Meriel said he was a hero to his six-year-old daughter.
"Matt was the best kind of man imaginable, whose good heart equalled his great physical stature, loved by all whose lives he touched, and a truly wonderful father who was his little girl's hero," she said in a statement released by the Cumbria force.
"His passing leaves us all devastated and with the utmost resolve to ensure this great man's memory is kept alive for his beloved daughter, Kimi."
Mr Fulcher, who was born in Ruislip in Middlesex but later moved with his family to Wales, became a lorry driver after leaving school.
He spent the last 15 years working for NR Evans of Llanelli.
His mother, Sue Fulcher, said: "He was a larger than life figure and respected at all the bases and stores he delivered to.
"He was well liked by all the fellow drivers."
She added: "Matthew will be sadly missed by all who knew him but especially by his family who knew him as a big man with a huge heart and lots of love to give."
Mr Fulcher's lorry was leaving the M6 near Dalston on the outskirts of Carlisle when it left the road and ended up on its side.