Arrests over Tata Steel car re-sale fraud inquiry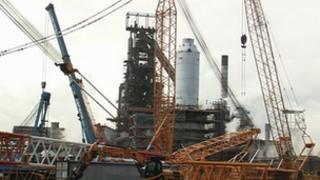 Fourteen people have been arrested and bailed on suspicion of fraud in relation to sales of cars bought by employees of the steelmaker Tata.
Dyfed-Powys Police is investigating allegations of illegal buying and reselling of vehicles in south Wales.
Tata employees are entitled to discounts of up to 20% off cars produced by the Tata group including Jaguars and Land Rovers.
Tata said it was aware of allegations involving "a number of employees".
Tata has steel plants at Port Talbot, and Trostre in Llanelli. It also has a hot and cold strip mill at Llanwern in Newport.
The BBC understands no employee has been suspended from duty as the investigation does not relate to technical failings and the matter was raised externally.
A Dyfed-Powys Police statement said: "Dyfed-Powys Police's financial crime team can confirm that they are investigating allegations of the illegal purchase and sale of motor vehicles.
"We are currently at the early stages of this investigation.
"Fourteen people have been arrested in relation to fraud offences and released on bail while inquiries continue.
"As the investigation is ongoing it would be inappropriate for us to comment further."
A spokeswoman added that the investigation, which she described as "complex", involved people from both the Dyfed-Powys and South Wales Police force areas, but Dyfed-Powys were the lead investigators.
A Tata Steel spokesman said the company was aware of the investigation "concerning a number of employees in south Wales".
The spokesman added: "We are very focused on the matter and the company is cooperating with the police.
"Personal integrity is a strong part of our corporate behaviour in south Wales as it is anywhere else."