Ombudsman criticism after surgery patient dies at Bridgend hospital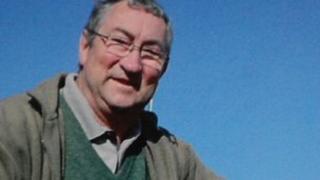 A patient died after complex bowel surgery which the public services ombudsman said should never have gone ahead.
Allan King, 70, who died at the Princess of Wales Hospital, Bridgend six days later, had not been made fully aware of the risks, the watchdog ruled.
Peter Tyndall found the surgery was too risky and should not have gone ahead.
He heavily criticised Abertawe Bro Morgannwg University Health Board, which has apologised.
The health board said lessons had been learnt and the surgeon involved has also agreed to take account of the issues raised.
It has also agreed to pay Mr King's partner Dorothy Wilson £5,000 for her distress.
The ombudsman's report found:
The operation was inappropriate given the difficulties encountered in previous surgery in 2007.
No evidence of the health board's claim that there had been a "long and detailed consent process" ahead of the surgery on Mr King.
The patient was only made fully aware of the potential risks of surgery that took nine-and-a-half hours shortly before he went into theatre in July 2011.
There were insufficient investigations and bowel preparation prior to surgery.
The surgeon could have sought the view of colleagues beforehand, and also have considered approaching the operation "in a different and potentially safer way".
The operation had been intended to improve the quality of Mr King's life and there had been no time pressure for the surgery.
But the ombudsman found the surgery was "too risky for symptom control only" unless Mr King had wished to proceed on a fully-informed basis.
"I found that the surgeon was acting at the limit of his skills in undertaking such complex surgery," said Mr Tyndall.
The ombudsman said the surgeon, referred to as Mr Y, had acted with good intentions but raised concerns at the "resistant and defensive attitude to my investigation".
Mr Tyndall had planned to a send a copy of the report to the General Medical Council, the body which regulates doctors, because "Mr Y seemed disinclined to believe he had anything to learn".
Lessons learnt
But he said he had relented after later comments by the surgeon suggested there was "assurance that his future clinical practice will be safer".
The ombudsman also criticised the health board for presenting him with two opposing views on the surgery, from Mr Y and the clinical director.
Mr Tyndall said it should have decided its own view and make recommendations for remedial action.
He said: "The university health board (UHB) has shirked its responsibility to tackle potentially difficult issues. I expect, in future, to receive corporate and senior responses to matters which I and my staff raise."
The health board said it apologised and insisted important lessons have been learnt.
The ombudsman noted the board had agreed to implement his recommendations.