Burglar Stewart Rees jailed for theft from dying Swansea woman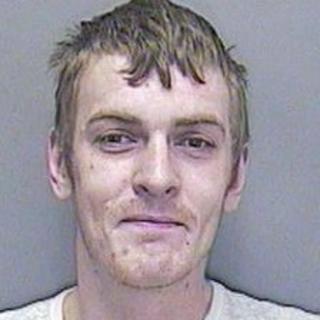 A burglar has been jailed for five years for stealing jewellery from a dying woman as she lay helpless in bed.
Stewart Rees, of Penplas, Swansea, took a mobile phone and three gold rings from Marilyn Parsons' bedside table.
Judge Paul Thomas said he seemed to have decided to make burglary his job and told him: "If you're in prison, you can't burgle people's homes".
At Swansea Crown Court Rees, 35, admitted theft, two counts of burglary and possession of heroin.
The court heard Rees only agreed to help find the rings after learning Mrs Parsons, 60, was dying.
Judge Thomas said the defendant had a "dreadful record" which included 11 burglaries and one attempted burglary.
The court was told Rees crept into his victim's bedroom and stole the items from her bedside table at her home in Penlan, Swansea.
She was unable to move and could not contact anyone to report the robbery and had to wait for her carer to visit the following day.
The court heard Mrs Parsons told South Wales Police officers: "I only hope that I am still alive to see justice carried out."
Rees refused to answer police questions when he was arrested but, on being told Mrs Parsons was terminally ill, he offered to show police where he had taken the rings to be sold.
'Chilling effect'
He told officers: "I want to help that lady get the rings back. If you help me to the judge, I'll help you."
One ring was returned to Mrs Parsons.
Andrew Evans, defending, said: "There's no suggestion that this defendant deliberately targeted the premises of Mrs Parsons.
"He is bitterly sorry for his actions, but he realises that doing what he did must have had a significant and profound effect on the victim."
Judge Thomas said: "It's chilling to think of the effect this must have had on her, especially as she was unable to summon anyone. You seem to have decided that burglary should be your occupation.
"There's only one way that the courts can stop you and that's by increasingly longer sentences. Put simply, if you're in prison, you can't burgle people's homes."