Swansea Twitter trend picks up hot topics in the city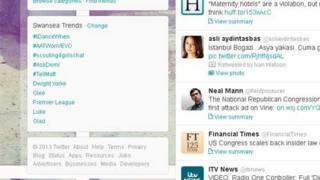 Swansea is among the latest cites to have its own 'trend' on Twitter, as one of 160 more cities added to the social media network.
Twitter says regional trends give users a flavour of the hottest topics under discussion in their part of the UK.
Users can select a location on the trend section, which ranks the most popular subjects discussed there.
"A city trend is the difference between reading a local paper or a national", said social media expert Rhys Thomas.
Swansea was one of nine UK locations added on Friday, following Cardiff which saw its city trend created in December.
UK cities already trending are Belfast, Brighton, Bristol, Edinburgh, Leeds, Leicester, Liverpool, Newcastle, Nottingham, Portsmouth and Sheffield.
Mr Thomas, a multiplatform project manager for the media training agency Cyfle, thinks sport is a major factor for Twitter's decision to select Swansea.
"Swansea City has become a major name since being a Premier League club, and a lot of Swansea hash tags are used when Swansea plays football", said Mr Thomas.
Before Twitter expanded its city trends, trend searches in the UK were limited to the country as a whole, or to London, Birmingham, Glasgow and Manchester.
Real-time updates
Mr Thomas said: "When big events happen in Swansea, users will be able to keep track of what is going on.
"If there is a local news issue, or if something significant is happening in Swansea, you can have up-to-date rolling news in your area.
"During the London riots a lot of the updates didn't show up on the UK trends on Twitter, but by selecting 'London' in the location options, people were able to see what was happening.
"If there is an accident on the M4 going towards Swansea, for example, people can follow it. They can follow anything that might not trend on a national scale, but is important to the people who live locally.
"Having up to date information like that is really useful".
Mr Thomas said that the main benefit was that a city trend offered real-time updates.
"Local news is as real-time as the schedule allows you."