Wales measles: Media's 'catastrophic failure' on MMR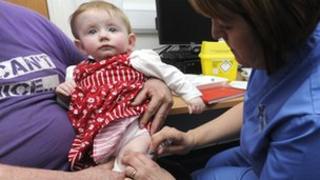 The UK media was guilty of "catastrophic failure" over its coverage of concerns about the MMR jab in the 1990s, says a journalism expert.
Dr Andy Williams, of Cardiff University, says the media "dropped the ball... with very few exceptions".
Experts have blamed the research and media coverage for a vaccination drop.
But a former South Wales Evening Post editor has said the current measles epidemic in Swansea could not be blamed on the paper's coverage at the time.
Nearly 700 people have been diagnosed with measles since the outbreak started in November, mainly affecting the Swansea area.
Health experts have said the epidemic is a result of a 10-15 year "legacy" of concerns about the MMR (measles mumps rubella) jab.
It followed research by Dr Andrew Wakefield in the late 1990s which linked the vaccine with autism and bowel disease.
His report, which was published in The Lancet medical journal, was later discredited, with health officials insisting the vaccine was completely safe.
The South Wales Evening Post reported on worries parents had, but its former editor, George Edwards, said the paper never told parents not to get the jab.
He said: "As I saw it, their [the readers'] concerns were totally genuine.
"What were we supposed to do? Tell them to go away?"
He added: "What I do need to emphasise is that at no time did the newspaper ever say to parents 'do not let your children have this jab.' We never, ever said that."
Dr Andy Williams, of the school of Journalism, Media and Cultural Studies at Cardiff University, said the UK media have "got to take a lot of the blame for this, I think".
He told BBC Radio Wales: "I think that the UK news media collectively dropped the ball over MMR, with very few exceptions.
"They gave far too much prominence to claims from Wakefield based on very thin evidence."
He said the media "failed to check the facts, to evaluate this evidence"
He added: "Wakefield made a lot of his claims about MMR, mostly in press conferences to the media and this stuff really should have been checked against what his evidence said - perhaps not by the Evening Post but by our elite journalists in London a lot more - and it wasn't."
Dr Williams, who researches media coverage of science, the environment, and health, said "a lot of science and health reporting is really strong," but added: "On MMR there was a real catastrophic failure and we're seeing some really nasty consequences today because of that."
Dr Marion Lyons, director of health protection at Public Health Wales, said at one stage, 45% of children in the Swansea area had not been vaccinated against measles.
That figure had since fallen to 10-15% but it is still considered too low to stop the spread of the highly infectious disease.
Although the epidemic is centred around Swansea, cases continue to be reported across Wales.
Most are in the Abertawe Bro Morgannwg health region, which also includes Neath, Port Talbot and Bridgend.
There are also cases in Powys and in the Hywel Dda Health Board area, which covers Carmarthenshire, Ceredigion and Pembrokeshire.
The are concerns the outbreak could spread across Wales.