Swansea prison 'needs more suicide support'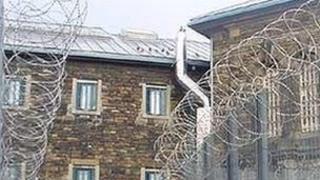 Swansea prison needs to give inmates at risk of suicide or self-harm more support, inspectors have said.
A follow-up visit to the main 2010 inspection found the prison has made progress on safety and resettlement of prisoners following earlier concerns.
But it said two-thirds of staff still lacked refresher training in self-harm monitoring following three deaths since the last inspection.
The report also called for more activities for prisoners.
Inspectors found good staff-prisoner relations, the prison was clean and well-maintained and said the drug support unit was a positive initiative.
Education provision was reasonably good and health care provision was reasonable.
The main concerns were around the lack of self-harm training and prescriptions for substance misusers during the beginning of their stay.
The inspectors also said there was not enough activity places for prisoners and not all places and workshops available were being used.
The needs of some minority groups were not understood or met, they added.
Chief Inspector of Prisons Nick Hardwick said: "Swansea had made progress on safety although more work needed to be done to ensure prisoners at risk of suicide or self-harm received the support they required.
"Resettlement work had, with some caveats, improved.
"However, although not uncommon in a local prison, too many prisoners were unemployed and not purposefully engaged with activities. This was further compounded by restricted opportunities for time out of cell."
Michael Spurr, chief executive officer of the National Offender Management Service, said: "I am pleased that the chief inspector has recognised the progress being made at HMP Swansea.
"The governor and his staff are working to address areas for improvement identified in the report."