Binge drinking crackdown in Swansea, Neath and Port Talbot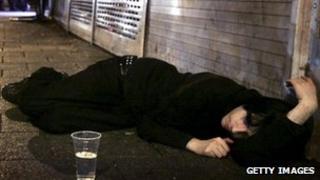 Binge drinkers are to be offered courses to help rehabilitate them after they commit offences while drunk.
The Tackling Alcohol Safer Communities (Tasc) course will be available to those who receive fixed penalty notices with the incentive of fines being halved for completing it.
It is also available to those banned from visiting over 50 city centre pubs.
The course is part of a crackdown on alcohol-related violence in Swansea, Neath and Port Talbot.
It is run by West Glamorgan Council on Alcohol and Drug Abuse and is being operated on behalf of the Safer Swansea and Safer Neath Port Talbot Partnerships.
The three-hour course is aimed at increasing awareness of alcohol use and learning about personal safety as well as the health, social and legal implications of drinking heavily.
Lisa Shipton of West Glamorgan Council on Alcohol and Drug Abuse said: "We want people to enjoy themselves when visiting our vibrant nightlife but it has to be responsibly.
"The Tasc course is aimed at the minority whose behaviour becomes unacceptable after a few too many drinks."
Chief Supt Julian Williams of South Wales Police said he welcomed the course.
'One punch'
"It will no doubt be a welcome contribution to an innovative mix of initiatives to helping to make nightlife safer in Swansea, Neath and Port Talbot.
"We need to change the behaviour of the minority who can't control their behaviour after excessive alcohol.
"The Tasc course will help educate people and hopefully stop them from re-offending in the future.
"One punch really can ruin lives - the victim's and the offenders. I urge people to please walk away from aggression or violence on a night out."