Thieves throw dog from stolen van in Swansea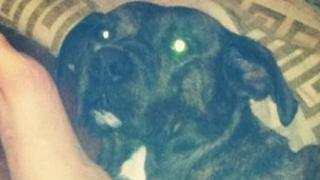 A dog owner has spoken of his upset after his pet died after being thrown out of his stolen van by thieves near the M4 in Swansea.
The stolen van sped on after Nicky, the boxer-Staffordshire bull terrier cross, was dumped near a motorway junction.
The seven-year-old family pet then wandered onto the motorway and was hit and killed by a passing lorry.
Nicky's distraught owner Alun Thomas described the thieves as "heartless" and police have appealed for witnesses.
The stolen double cab Transit tipper van, registration HV02 SMX, has not been traced.
The incident happened at the Llangyfelach roundabout outside Swansea, near junction 46 of the westbound M4, on Tuesday morning.
Landscape gardener Mr Thomas, 52, from Fforestfach, Swansea, was working in the Morriston area of the city when his van was stolen.
He has spoken of his shock at what happened to his dog.
"The thieves are heartless. I'm in disbelief about what has happened and I hope the culprits are caught and dealt with in an appropriate way," Mr Thomas said.
Speaking on BBC Radio Wales, he added: "We were loading a truck and just a couple of minutes went and the truck just got stolen and the dog was just thrown out on the motorway and that's the last we've seen.
"I've always mothered her. If I walk somewhere she walks with me and never walked on the road, so to be thrown out on a motorway ... she must have been in a terrible state.
'Callous'
"The dog never left my side. If I come to work the dog comes and it used to sit on the job. It's what I always wanted and I'll never get one like her again I don't think.
"It's killing me."
A police spokesman said Mr Thomas's van was stolen between 10:00 and 10:40 BST on Tuesday.
An officer sent to the scene discovered the dog lying dead on the motorway.
"It was lying in the slow lane and had been hit or had collided with a vehicle," the officer explained.
"It was a callous act and we are appealing for witnesses to come forward."
Anyone with information about the incident is asked to call the police on 101 or Crimestoppers on 0800 111 555.