LNG demand fall hits Milford Haven port profits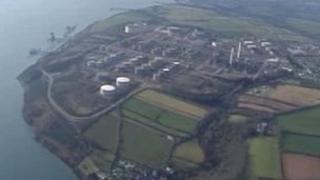 Profits at Wales' largest port have fallen by half after a big reduction in the number of liquefied natural gas (LNG) tankers docking there.
Milford Haven Port in Pembrokeshire saw 2012 profits drop from £8.1m to £4.2m.
The fall in the number of LNG shipments was blamed on steep increases in the cost of imported gas making coal cheaper for power generation.
The port said it was diversifying into renewable energy sources to limit the risk from market fluctuations.
It said markets had been hit by a combination of factors including the 2011 Japanese tsunami and the USA's interest in shale gas, which is extracted from shale rock using the controversial process of fracking.
The port, the third largest in the UK, was also affected by the increasing cost of dealing with pension deficits.
Port chairman David Benson said: "The port will always be susceptible to energy market fluctuations which is why we are continuing to diversify and make the most of opportunities for investment in activities more within our control.
"During 2012 we focused primarily on investing in our sites at Pembroke Port and Milford Dock and actively pursued opportunities to be involved in the wind, hydro and biomass sectors of the renewable energy economy."
Milford Haven has two terminals, South Hook and Dragon LNG, which have received giant tankers carrying LNG from the Middle East since 2009.
Last month a giant gas tanker was diverted to Milford Haven during a long cold snap which sparked fears that the UK would run out of stored gas.
The Zarga was carrying about 266,000 cubic metres of LNG, or six hours' worth for the UK.