Gellinudd Hospital closure plan prompts concern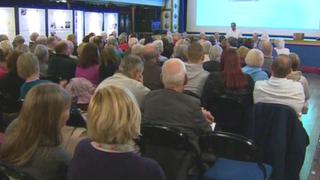 Concerns have been raised about the planned closure of a hospital for the elderly.
Almost 200 people attended a public meeting over the future of Gellinudd Hospital in Pontardawe, Neath Port Talbot, on Monday night.
Opponents of the plans say it is a valuable resource for elderly patients recovering after hospital treatment.
Abertawe Bro Morgannwg Health Board said the closure would save £340,000.
Patients would transfer to other hospitals in the area, and care would be offered to people in their homes.
The hospital, which has 30 beds, is used for the recovery of older people who have previously had health problems.
There are also limited rehabilitation facilities.
The health board's consultation document said: "Closing Gellinudd would release approximately £340,000 to re-invest in additional community-based staff, to reflect the spread of patients currently using Gellinudd.
Sacrificed
"These would include nursing, physiotherapy, occupational therapy staff and healthcare support workers.
"They would strengthen the community services we could offer in the area, helping people to live as independently as possible in their communities."
But opponents claim the hospital is being sacrificed because the new Neath Port Talbot Hospital is under-used.
They are also concerned that community services to care for people at home may not be adequate.
The public meeting at Pontardawe Arts Centre on Monday was the second of two meetings, with the first taking place the previous week at Neath Civic Centre.
The original hospital on the site was opened in 1910 and used as an isolation hospital but the current facility was rebuilt in 1994.