Nine cows drown off Cefn Sidan beach, Carmarthenshire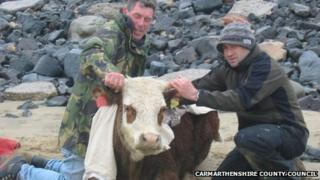 Nine cows have drowned off a beach after a herd of 30 was cut off by the incoming tide in dense fog.
They escaped from a farm in Pembrey, Carmarthenshire, nine miles away last weekend and into forest and marshland.
They were cut off on Cefn Sidan in one of the year's highest tides at Burry Port, and the nine died swimming for shore.
Claims that they escaped after fencing was damaged by dog walkers are being investigated.
The plight of the cows on Thursday went unheeded as it happened at dawn in dense fog, said the Millennium Coastal Park rangers.
Along with police and fire crews, the rangers battled to get the surviving cows to safety in a rescue operation that took four hours.
They covered the animals with thermal blankets, black bags and their own clothes to try to protect them from the chilling winds.
Ranger Steve Oliver said: "It was a deeply upsetting experience. Seven cows washed ashore drowned after attempting to cross the channel from Cefn Sidan to the harbour.
Scavenged blanketing
"Five of them swam to and landed on Burry Port pier and were herded away by Llanelli firemen.
"Several were down and we manage to get them into a semi-upright position to aid their breathing and scavenged any form of blanketing, including black bags to protect them until help arrived."
Two more cows were reported by fishermen lost in the channel, another was found dead on Cefn Sidan.
Tracks in the sand showed the cows had wandered along seven miles of Cefn Sidan inside the dune line before being washed off its end.
Carmarthenshire council said police were investigating claims by a farmer that the cows escaped after fencing was damaged by dog walkers.