Swansea City fans' help sought over kittens' towel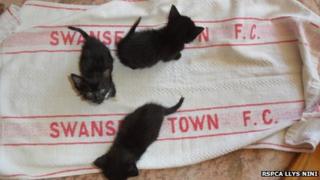 Swansea City fans and historians are being asked if a towel donated for kitten bedding to an RSPCA shelter has any historical significance.
The old Swansea Town FC towel was found in a pile of linen at the Llys Nini Animal Centre in Swansea.
As the Premier League club changed its name to Swansea City in 1969, the towel would be at least 44 years old.
Staff want to know if the towels were only used by players or more commonly available.
Sally Hyman, chair of Llys Nini, said she found the towel while looking for bedding for some kittens.
"Although not a new towel, it is in very good condition," she said.
"I was just about to use it to make a bed for a litter of small kittens, when I noticed what it said on it.
"We would like to know how common these things are - were they sold to supporters or, as we suspect, provided to the players or perhaps used in the executives' bathroom at the Vetch [football ground] and therefore more special.
"We would like to know if the towel is of historic value to the club."
Brothers and Welsh internationals Ivor and Len Allchurch were among the stars who lined up for Swansea Town in the 1960s when the club's main highlight was reaching the FA Cup semi-final in 1964.