Sebastien Bassong: Case dropped against man facing race charge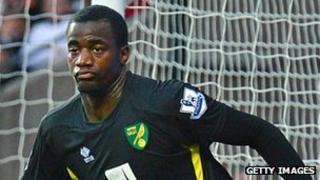 Prosecutors have dropped the case against a man charged with a racially aggravated public order offence after a player at Swansea's Liberty Stadium was allegedly racially abused.
The incident allegedly happened at a Premier League match last December and involved Norwich's Sebastien Bassong.
Lawyers said there is insufficient evidence to continue with the case against Lee Ward, 23.
District crown prosecutor Iwan Jenkins said all parties had been informed.
Mr Jenkins from the Crown Prosecution Service (CPS) in Wales said: "Our latest review concluded that there is insufficient evidence to provide a realistic prospect of conviction in this case.
"Specifically, the prosecution would not be able to prove, to the required legal standard, that Mr Ward's actions were racist in intent.
"We would also not be able to prove beyond reasonable doubt that his actions were specifically directed at the complainant."
Cameroon international defender Bassong, 26, joined Norwich City last summer.