Swansea Bay tidal power firm launches £2m share offer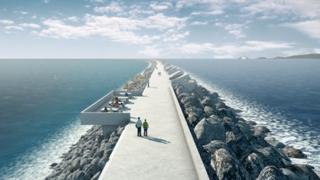 A firm behind proposals for a £650m tidal lagoon in Swansea Bay is offering £2m worth of shares to the local community.
Tidal Lagoon Swansea Bay says buying shares at £800 each would make people "early stage investors" in the planning and design phase of the proposal.
The company hopes to submit a planning application in October and the lagoon could be working as soon as 2017.
It says the lagoon could generate enough energy to supply 107,000 homes.
Mark Shorrock, chief executive of Tidal Lagoon Swansea Bay, said those living in Wales will have priority to buy shares over the next five weeks.
The money would go towards the firm's target of raising £10m funding from the public.
Risk warning
Half of that figure is made up of large-scale investors, while the other half comes under the Enterprise Investment scheme which includes the £2m shares offer.
"The share offer is a high risk investment as the proposed funds raised, being £10m in total, will be spent on the development phase," Mr Shorrock said.
"There is no guarantee of securing development consent or securing construction finance thereafter, which is expected to be in the region of £650m to £750m."
He added: "We believe that tidal lagoons are a viable, large scale alternative to traditional fossil fuel and nuclear electricity production.
"They combine proven technologies and civil engineering construction methodologies in an innovative configuration to generate predictable, clean electricity for our children, grandchildren and great-grandchildren."
The planned lagoon, which would take about two years to build, would comprise an impounding breakwater or seawall about 10.5km (6.5 miles) long, capable of holding 11 sq km (4 sq miles) of water.
Visitor centre
It would hold on to water and then let it out through turbines at both high and low tides which would generate electricity.
At low tide, water would flow from the lagoon into the sea, and from the sea into the lagoon at high tide.
But its size - over 100 megawatts - means its future will be decided by the UK government.
There are also plans for an offshore visitor centre.
Plans for tidal power in Swansea Bay were first mooted in 2003 when a charity wanted to harness the tides to provide electricity for up to 10,000 homes.
In 2006, a firm called Tidal Electric Ltd put forward proposals to take the project on, but that has since been put on hold.
Now Tidal Lagoon Swansea Bay believes it can bring the project to reality.
Should the proposals go ahead, it is estimated the lifespan of the lagoon would be 100 years.